Flowers are lovely botanical gifts from Mother Nature. Each season brings a fresh palette of petals, scents, and colors. With some planning, you can enjoy beautiful flowers for the season from your garden or weekly bouquets year-round.
Flowers For Spring

The rebirth of spring offers plenty of beautiful flowers of the season. Bulbs like daffodils, tulips, and hyacinths burst open to signal the end of winter.
Daffodils: A dependable sign of spring, daffodils come in a rainbow of colors including yellow, white, and orange. They thrive in most climates and bloom early.
Tulips: These iconic spring flowers come in many hues ranging from bright red and pink to yellow and purple. Plant tulip bulbs in the fall for a colorful spring display.
Hyacinths: Their sweet fragrance fills the garden air as hyacinths bloom in pastel shades like blue, purple, and white. Plant clusters of bulbs for a stunning effect.
Irises: Often called the "flower of spring", bearded irises bloom in colors from pale blue to purplish-black. Plant the bulbs in the fall for early summer blooms.

Also Read: Tips for Gifting Birthday Flowers
Flowers For Summer

In summer, the days are long, hot, and humid -perfect conditions for sun-loving annuals.
Petunias: Available in more than 200 varieties, petunias come in a rainbow of colors. They thrive in heat and bloom non-stop all summer.
Marigolds: These cheerful flowers are easy to grow and tolerate heat well. They come in shades of yellow, orange, and gold.
Geraniums: With their velvety blooms and intense fragrance, geraniums are ideal for porches and patios. They thrive in containers and come in shades of red, pink, white, and salmon.
Zinnias: These simple sunflowers come in bright reds, oranges, yellows, and purples. Zinnias bloom profusely all summer long until fall frost.
Roses: Whether climbing, shrub, or miniature, roses reach their peak in summer. If you are looking to order some from your local florist in Virginia Beach, aim for repeat blooming and disease-resistant varieties.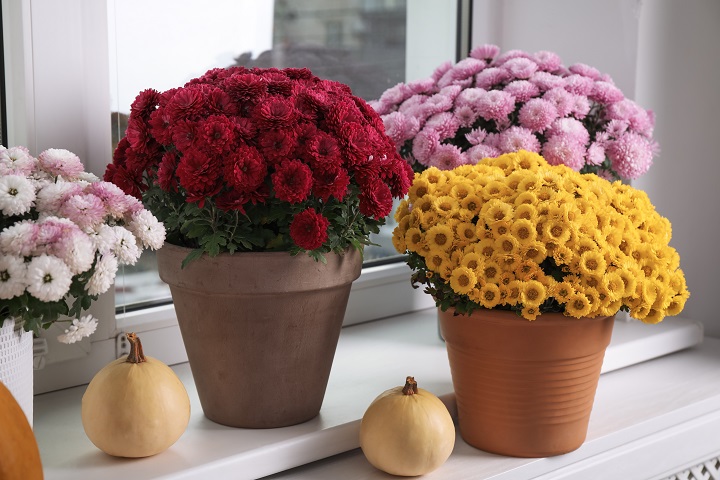 Flowers For Fall

In autumn, hardy perennials steal the show as summer flowers fade.
Chrysanthemums: Often called "mums", chrysanthemums bloom in a wide range of colors - yellow, rust, bronze, maroon, and purple. They thrive in fall's cooler weather.
Asters: These daisy-like flowers come in pinks, purples, and blues. Their flowers attract butterflies and bloom best in fall's cool nights and sunny days.
Dahlias: With their large colorful blooms, dahlias shine in fall. They come in pinks, reds, yellows, and purples in cactus, pompom, and other types.
Sunflowers: As days shorten, sunflowers bloom in gold and brown hues. Growing up to 10 feet tall, they attract birds seeking late-season seeds.

Flowers For Winter
Winter's chilled air brings fragrant witch hazels, bright hellebores, and pansies to light up an otherwise dreary season. These are also popular options in flower shops in Chesapeake VA.
Witch Hazels: The golden yellow winter blooms and sweet fragrance of witch hazels brighten the landscape from January to March. Many cultivars are available.
Hellebores: Sometimes called Lenten or Christmas roses, hellebore blossoms emerge above the foliage in shades of pink, red, purple, white, and green for early winter interest.
Pansies: These frost-tolerant flowers bloom in cool temperatures and endure the cold. Pansies come in colors ranging from yellow to blue, purple, and burgundy.
With some preparation and an eye for seasonal changes, you can create fresh seasonal flower arrangements and views from your garden all year long. Hopefully, this seasonal flower guide has given you some inspiration for the months ahead!
Black Iris Florist offers hand-picked bouquets and floral seasonal flower arrangements designed to suit any season.
Our expert floral designers create arrangements using the finest in-season blooms, delivering smiles with every stem. Order your same-day flower delivery in Virginia Beach today!